The Austrian company digMAR GmbH, a supplier of customer-specific system solutions, has decided to purchase the high-precision 3D vision camera systems of TKH subsidiary NET GmbH for the carpet-cutting machines of its customer KURIS. The open camera concept allows customers to implement their own algorithms directly in the camera for higher-quality image capturing.
Providers of customer-specific solutions like digMAR are increasingly using intelligent cameras for industrial image processing in order to build powerful systems for the application concerned. The benefit is obvious: mainly intelligent image processing solutions enable more powerful systems, which are tailored to the application of the machine builder or system integrator.
digMAR GmbH, a competent partner for the development of software and systemswith focus on digital image processing chose an innovative vision concept from NET. NET's innovative open camera concept makes it possible to shift tasks from the PC to the camera so that higher processing speeds can be achieved, leading to greater scalability of the application. This drastically reduces the amount of data relayed from the camera to the PC and also enables data to be processed in real time on the PC.
As a manufacturer of cutting and spreading machines for the textile and automobile industries, among others, and with more than 10,000 machines installed worldwide, KURIS sets high requirements for inspection systems. The use of 3D inspection solutions has had a considerable impact on product quality. In the case of the carpet-cutting machine, multiple GigEPRO cameras are used. These provide detection of carpet in 3D accurate to three millimetres. The entire working width is more than four metres, while the belt speed can rise to 50 metres per minute.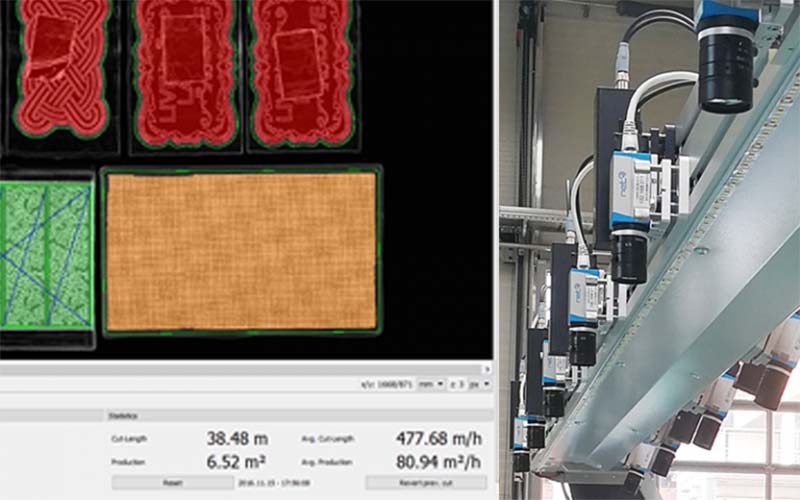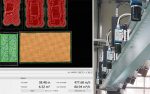 "The unique benefit compared with  conventional equipment and cameras is scalability, as multiple GigEPRO cameras are used for real-time applications. This enables high-resolution images and a relatively large object width," says Dietmar Götz, managing director of digMAR.
The 3D laser triangulation and application architecture has been specially developed for digMAR applications, As well as highresolution images, the cameras also provide so-called 'intensity images', including the grey values of the original image.
3D images for accurate inspections in real time, Dietmar explains the principle behind this. "The test object is constantly moved about under the camera laser system, generating a large number of triangular profiles, which together form a single, complete three-dimensional image of the object. Our algorithm as implemented in NET's GigEPRO cameras produces results accurate down to the sub-pixel."
Thanks to the development platform, digMAR could program algorithms on the FPGA (Field-Programmable Gate Array) of the GigEPRO cameras. Future modifications to the application are also possible through the open camera concept, such as for the exact detection of external and internal contours, holes, material height and height errors.