younique solutions 
for the field of industry
Vision – the key to your success! Find out how we turn optimally configured and perfectly coordinated vision components into a solution for our customers. The added value for you: Due to our extensive knowledge of applications, we are able to offer you the ideal solution within a short period of time – perfectly tailored to your application needs.
NET's range includes not only individually computed optics and cameras configured or adapted to customer requirements, but also complete ready-to-use smart vision systems and IP cores. We are happy to help you choose the right vision products for more efficiency and safety in the areas of factory automation, quality control and visualization.
Open Camera Concept
Our key objective is to contribute to the individual success of our customers with vision solutions. We have developed the innovative Open Camera Concept® with this in mind. It allows users to program NET cameras themselves without any restrictions. Thanks to the ready-to-use development platform, you can arrive at your unique vision solution even quicker.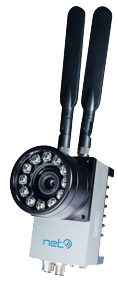 Range of industries and applications
Selection according to technical requirements:
Examples of Best Practices: