New models for iam Smart Vision System lineup
Following the introduction of the iam smart vision system at the beginning of the year, NET extends the range of iam cameras with several models featuring new CMOS image sensors for excellent iamge quality. Now, iam is offered with sensor format sizes from 2/3″ up to 1/2.5″ covering resolutions from 0.4 MP to 12 MP. With that iam can better meet individual demands of industrial applications.
Special attention has been paid to an improved dynamic range and quantum efficiency of the image sensors.
Currently, the iam smart vision system comprises 17 color, monochrome and NIR models with image sensors from SONY and ON Semniconductor. Thirteen models feature global shutter technology. Up to 280 frames per second at full image resolution can be achieved.
The massive R&D efforts are part of the continuous development strategy of NET´s smart vision systems. The iam smart vision system by NET stands out due to its novel system architecture and flexibility for highest demands.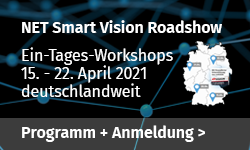 NET Smart Vision Roadshow
15. bis 22. April 2021
1-Tages-Workshops
deutschlandweit

Im Rahmen von Fachvorträgen, Live-Demos und Eins-zu-Eins-Gesprächen erklären wir Smart Vision für den Praxiseinsatz. Erfahren Sie als Ingenieur bzw. Projektleiter oder Anwender, welche Vorteile dezentrale Visionarchitekturen Ihrer Anwendung bieten können.
https://net-gmbh.com/roadshow/