Awards for NET cameras
At the fourth annual Vision Systems Design Innovators Awards on April 10, 2018, in Boston, NET New Electronic Technology received a Silver-level award in the "Cameras – Specialty (High-speed, scientific)" category and two Bronze-level awards in the "Embedded Vision" and "Cameras – Visible" categories. The event was held in Boston during the "The Vision Show" exhibition. The prizes for NET's smart vision system CORSIGHT, the GigE Vision camera GigEPRO with integrated image processing feature, and the compact board-level modular-design camera HDselect, were awarded by a panel of expert judges consisting of system integrators and end users. Since the introduction of the prestigious Innovators Awards program in 2015, NET has been the first company to receive three awards in the same year.
The prize-winning cameras at a glance:
• GigEPRO – GigE Vision camera with integrated image processing feature
• CORSIGHT – smart vision system
• HDselect – compact board-level modular-design camera
More information is available on the organizer's website at www.vision-systems.com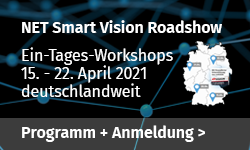 NET Smart Vision Roadshow
15. bis 22. April 2021
1-Tages-Workshops
deutschlandweit

Im Rahmen von Fachvorträgen, Live-Demos und Eins-zu-Eins-Gesprächen erklären wir Smart Vision für den Praxiseinsatz. Erfahren Sie als Ingenieur bzw. Projektleiter oder Anwender, welche Vorteile dezentrale Visionarchitekturen Ihrer Anwendung bieten können.
https://net-gmbh.com/roadshow/