GigEPRO camera series extended to include models featuring new IMX image sensors
NET has added the models GP2238 and GP2239 featuring the new IMX174 and IMX249 CMOS image sensors from SONY to the compact GigE Vision camera series. Their characteristic features are a high dynamic range, excellent signal quality and a global shutter function. The sensor is 1/1.2″ in size. The GigEPRO cameras are now available with image reproduction in both color and monochrome.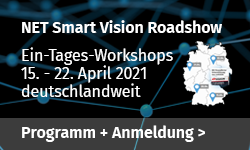 NET Smart Vision Roadshow
15. bis 22. April 2021
1-Tages-Workshops
deutschlandweit

Im Rahmen von Fachvorträgen, Live-Demos und Eins-zu-Eins-Gesprächen erklären wir Smart Vision für den Praxiseinsatz. Erfahren Sie als Ingenieur bzw. Projektleiter oder Anwender, welche Vorteile dezentrale Visionarchitekturen Ihrer Anwendung bieten können.
https://net-gmbh.com/roadshow/